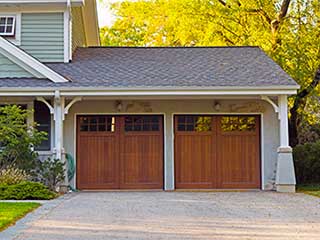 Hey there, thinking of getting a new garage door? I can imagine there are a billion thoughts going through your head, especially if you didn't install the one you currently have. You probably met it there when you bought the house or you didn't have enough information when you purchased your current one and now it's a big mess or simply not to your liking. In this article, I will tell you about the major types of garage doors that are out there in terms of the materials they are made of, so you can begin your journey towards getting one for your home.
Easy On The Maintenance - Steel
We have steel. Steel is quite nice particularly for those who do not have a lot of time to spend on maintenance. It is also sturdy, although not like wood but it does the job. It is inexpensive too which makes it a great option for all the price sensitive folks out there. They regularly come with lifetime warranties when you purchase, and that's a good thing.
You have the option of choosing light or thick steel variants, the latter which is less susceptible to indentation and scrapes. Steel, no matter how thick, is still metal and is very prone to rust if exposed to moisture for prolonged periods. Metals to respond to temperature changes, expanding in the heat and shrinking in the cold and this characteristic may reflect in its performance as your garage door material.
Classically Beautiful - Wood
So here's wood. Garage doors made of wood are quite sturdy and can handle mechanical stress and impact very well. They give off this very charming outlook to your home especially when they are well polished; and they can have beautiful designs carved into them, unlike other materials.
Nevertheless, wooden doors need a significant level of commitment in terms of maintenance. They are vulnerable to the effects humidity and sharp temperature adjustment. You have to keep spray painting and refinishing them often so as to keep your home from looking unattractive. They are also expensive to acquire, particularly if you have a high taste. Wood is heavier than most other materials that garage doors are made out of.
Quality for Budget - Aluminum
The first thing about this material is its affordability; it's cheaper than the other two materials. It is also very light, which means your openers and springs wouldn't have to work so hard to open and close it unlike wood. It is the perfect material if you want to have a wider-than-standard door.
Regardless, it is light and so that means it can't stand strong winds and is prone to dents from external mechanical impacts.