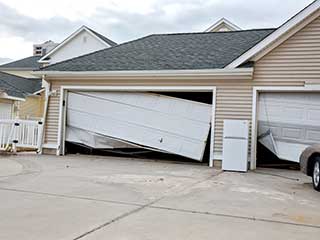 Many types of problems that affect garage doors demand a fast solution. Nobody wants to waste time waiting for the technicians to arrive or having to deal with a garage door that isn't working for days. That's why our team offers the quickest emergency garage door repair services near the Oviedo area. With a fast response to any problem, we implement on the spot solution at the lowest costs. Whether it's replacing a broken spring or repairing a garage door opener or tracks, we're here to help you with any issue, any day.
Garage Door Goes Off Track and Gets Stuck
Many potential causes exist for a problem like this. Oftentimes, a garage door roller pops out of the tracks because of some damage or blockage. Sometimes the roller itself is damaged and needs to be replaced. Other times a garage door cable comes off the drum and creates a situation in which the panels can't move. And let's not forget about problems with the opener that make the garage door only open partly. All these issues can get quick fixes with timely troubleshooting. And the garage door repair services we offer to Oviedo and nearby will ensure that. You only need to let our team know you're dealing with a problem and a local technician will be on their way to help you.
Broken Spring Needs Repairs
Another problem that many garage doors experience at one point or another is a broken spring. You might have more than one, but in most residential garage doors, a single spring exists. In either way, a broken spring creates quite a big problem. You see, it's not safe to open a garage door with a broken spring. You need it to support and help with the movement of the panels. Replacing broken garage door springs can be dangerous when attempted by inexperienced persons. So it's always smart to let the nearest Oviedo garage door repairman save you the trouble. When you need a broken spring replaced quickly, and at a low price, you've got help available any day of the week.
Oviedo Garage Door Repairs – Openers, Tracks, and More
Our emergency solutions and troubleshooting services cover all types of unexpected malfunctions. This includes garage door opener repairs as well as realigning tracks and replacing rollers and even panels. With help provided daily to all close by areas, you can always get assistance in a hurry when you need it. So call Garage Door Repair Oviedo for cheap services and guaranteed results every time.