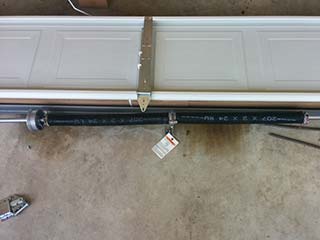 Garage Door Spring Broke – What To Do
It's important to avoid throwing caution to the wind with such scenarios. You see, broken garage door springs still present certain risks when you handle them or when you try to move the door. The main issue is that the panels no longer have full support. So if you try to open a garage door with broken springs, you risk it falling down or something else tearing or breaking (like the lift cables, for example). Let professionals in your area handle broken garage door spring replacement to ensure maximum safety and the fastest fix. If you don't have experience handling broken springs, avoid unnecessary risks and keep yourself safe. The experts at Garage Door Repair Oviedo can help with weak springs or broken ones. All you need to do is let us know.
Weak Springs On Garage Door
Over time, all garage door springs will grow weak. This will take less time the more you use the door. Each spring comes with an expected lifespan, after all, otherwise known as a number of work cycles. The more you use them, the more cycles you "spend". Of course, with garage door spring tension weakening, you still have potential solutions without replacing the entire unit. Adjusting the tension of the springs can help optimize their performance. However, you ought to let a professional do this if you don't have the necessary experience. Garage door springs can break when handled incorrectly, and you don't want to be anywhere nearby when that happens.
Your garage door springs are one of the most essential components in your automated doors, and that is because they work in pairs to keep the door properly balanced so that it can continue to work seamlessly. They are also responsible for keeping the door secured so that it can be used safely. If you are looking for assistance with having your springs maintained, replaced, installed or repaired, be sure to contact one of our technicians at Garage Door Repair Oviedo for more information.
Installing and Replacing Garage Door Springs
When your springs fail, or start to show signs of trouble such as rust, corrosion or cracks and warping, it is essential to have them replaced as soon as possible. Since they work best in pairs, it is best to have new springs installed when even a single one fails, that way you can ensure that your door is correctly supported and balanced at all times. So, contact one of our technicians for assistance with having them installed or replaced when the need arises, and we will ensure that your door is properly supported and safe to use, thanks to a pair of springs that have the structural integrity to take on the weight of your door.
Maintenance on Your Springs
It is good practice to consistently check your door springs for signs of trouble, and to deal with it before the problem worsens. Speak to one of our technicians today for more information on our garage door spring maintenance services which will ensure that they continue to perform to your expectations, keeping your door in good health and rendering it safe to use.
Strengthening Your Garage Doors
Our technicians can provide you with assistance with selecting springs that are stronger, more versatile and better suited to heavy doors. If your current springs are not providing you with the strength and longevity that you require, have one of our technicians provide you with and install galvanized or oil tempered springs that are sturdier than normal springs, and last far longer.
If you would like to have a new set of springs installed on your door, need to have your current ones repaired or replaced, or simply require a little maintenance to ensure that they are working as they should, speak with one of our consultants today for more information on our garage door spring related services.
Broken Springs Replaced For Oviedo Garage Doors
You can let us know if you need to have something checked or when a part breaks down completely. Our experts specialize in broken spring replacement for Oviedo garage doors and all nearby areas. This type of problem has become the most prevalent one for these systems, so our technicians have handled it a lot. We also offer urgent assistance when needed. For emergency garage door spring replacement at the lowest rates near you, call our 24/7 service hotline and get a same-day response.
In addition, count on us for:
Roll up Garage Door Maintenance
Screw Drive Opener Replacement
Garage Door Cable Replacement
Overhead Door Installation