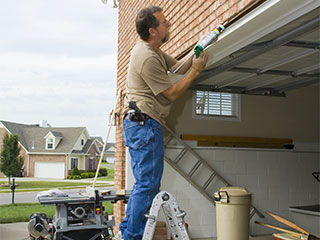 Stay Safe
A well-maintained garage door is an asset to a secure home and sheltered vehicles. Broken doors can let in the elements, causing corrosion and other weather-related damage. They can also let in unwanted animals and more. A working door provides safety and security to your home and vehicles. Maintenance checks also prevent more major damage from occurring to your door and can keep you and your loved ones safe from dangerous malfunctions. The maintenance itself can be risky, dealing with heavy parts, force-laden springs, or electrical issues. Allow us to find the minor repairs and replacements that you need before a major break, and our experienced technicians can handle them all.
Grease the Wheels
A little care can go a long way toward ensuring that your garage door works smoothly. Our routine maintenance checks cover panels, springs, rollers, openers, and everything else you need to remain in tip-top working condition. Doors can have quite the variety in the pieces they use to perform, such as chain drive openers versus jackshaft, belt drive, etc., or torsion springs versus extension springs. Each different part requires its own knowledgeable inspection to ensure that there are no surprise malfunctions lurking. Maintenance care provides a safety check and a visual inspection of your door, and can include some minor repairs and worn part replacement, making sure that everything is in order to keep you going. Schedule an annual maintenance appointment with one of our technicians.
Professional Guidance
Our experienced technicians can assist you in caring for your door all year long. Routine professional maintenance makes it easier for you to keep your door in top condition between visits, and an annual visit can help nip problems in the bud. Contact Garage Door Repair Oviedo to talk about your concerns with a qualified technician and set up your annual maintenance checkup now.
But wait, there's more! We also offer:
Torsion & Extension Springs Replacement
New Opener Remotes & Clickers
Oil Tempered Torsion Springs
New Garage Door Installation