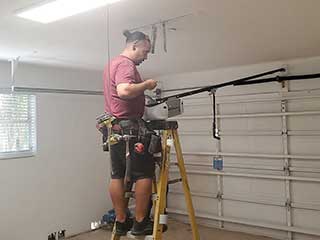 The Mechanisms in your Door
Garage doors are extremely heavy and must have a counterbalance that allows them to be lifted and lowered. Part of this mechanism is the springs, and part of it is the opener. Most openers use an overhead drive of some sort, connecting a chain or belt to a trolley and motor, screwing the motor to the trolley, or placing the motor directly inside the trolley. Some use a jackshaft, which is mounted on the sides near the torsion springs instead. Residential garages are likely to use a drive rather than a jackshaft, although modified jackshafts are gaining in popularity outside of commercial spaces. These mechanisms see a lot of use, whether in a home or in a business and need to be replaced before they wear out too badly. If your opener breaks, you need fast, quality service to accurately diagnose the issue and repair the broken piece.
Quickly Fixing Garage Door Openers
Trouble that makes the opener not work the way it should become an inconvenience very fast. The problem is, that when the garage door opener breaks down it keeps you from going about your day. The opener controls the movement of the door. So now you can't use the remote to open the garage door and your car might even get stuck inside or outside of it. It's therefore important to have opener troubleshooting and repairs carried out quickly when trouble arises. Our Oviedo garage door opener repair services help customers overcome any issue as soon as possible. From damaged trolley to broken motor gear to problems with wiring or the logic board. When you turn to our local repairmen, any problem with your opener will get fixed fast and cheap.
What If They Break?
Worn openers can be anything from inconvenient to dangerous. A broken opener may simply mean that your door doesn't open or close. However, if an opener breaks while you're using it, you risk the door crashing down onto whatever is beneath it. Additionally, a broken opener can cost you in terms of wasted time trying to get in or out of your garage, which is a concern for both homeowners and business owners. Our trained technicians can speedily replace worn or broken parts to get you back up to speed and let you get on with your day.
Repairing a Broken Opener
Allow our experts at Garage Door Repair Oviedo to diagnose and solve your repair issues with a quick and friendly service visit. We have decades of experience with every type of drive and mechanism available. Our technicians are the best in the business and always have customer satisfaction at the forefront of their minds. Contact us today to set up your appointment.
Cheapest Oviedo Garage Door Opener Repair Services
The last thing you want is an unexpected expense that you suddenly have to cover. Well, with our low prices on opener repair and troubleshooting, that issue will get minimized. We offer affordable garage door opener repair services throughout Oviedo. Found a problem with the opener not opening or closing the door? Our professional garage door technicians can carry out LiftMaster opener troubleshooting and quick problem-solving for all other brands. Whether you need the remote control reprogrammed or to have opener parts replaced, we'll provide a fast and cheap solution. Opener troubleshooting can often take time and effort if you lack enough experience. That's why our garage door technicians emphasize speedy solutions as well as quality ones. Need help with garage door opener problems? Call the fastest local repairmen near you for low-cost solutions Sunday through Saturday.
Looking for more? We also offer:
Garage Door Troubleshooting Services
Genie & Liftmaster Opener Services
Extension Spring Adjustment
Emergency Garage Door Repairs