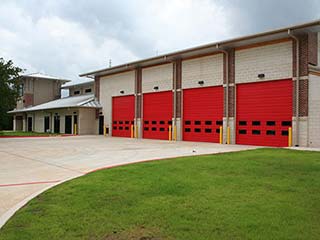 Garage Door Repair Oviedo employs a qualified group of professional technicians with the skillset and experience to provide a range of garage door repair services aimed at extending the lifespan, utility, and safety of your openers and doors at home. We offer replacement of essential parts, repairs on damages that undermine the security, safety, and accessibility of the door, while also offering regular maintenance services to ensure the longevity of your equipment.
Fixing a Garage Door Opening Problem
When you discover the overhead door isn't able to open the way it regularly does, you've got a few potential issues on your hands. The most common garage door problem is a broken spring. This makes it difficult for the panels to rise as the system's main "muscles" aren't working. Besides broken garage door springs, other repair problems include frayed cables, opener drive system faults, and even blocked tracks. Anything that restricts the movement of your garage door can make the panels stuck or unable to move past a certain point. To repair Oviedo garage doors quickly, our technicians provide fast troubleshooting and come prepared with all sorts of replacement parts. That way, if a spring broke, or the trolley connection got damaged, we can repair the garage door on the spot with the parts we brought.
Here are some of the critical services that our team can offer you:
Replacement of Worn Down Parts
As you use your automated doors, they will eventually become damaged from simple wear and tear. Tracks, springs, and bearings are but a few of the components that may need replacing after some time. Failing to do so may leave your door unsafe to use, or could even render it unexpectedly inoperable. Prevent these problems by having one of our technicians see to the timely replacement of garage door components whenever you need them.
Regular Maintenance Is Key
To ensure that your door continues to work as expected, it is necessary to conduct maintenance at regular intervals. With routine maintenance, you can prevent the need for expensive repairs at a later stage. Speak to us about having your garage door serviced at your earliest convenience.
Emergency Repair Services
When your door fails completely, it can put the security of your home, family, and belongings at risk. Because of this, emergency garage door services are an essential part of maintaining home security. If your door has failed unexpectedly, contact us for swift services that will have your home secured as quickly as possible.
Contact Us for More Details
For further details on our garage door repair services, be sure to contact a consultant from Garage Door Repair Oviedo today, or browse our website for further details on the types of assistance that we provide.
Can You Repair My Oviedo Garage Door?
Absolutely. When people all over the local area turn to us with garage door repair problems, we always do our best to offer them quick solutions at the lowest possible costs. Our garage door repairmen in Oviedo specialize in troubleshooting these systems quickly and dealing with both mechanical hardware and electrical components. Repairing garage door openers and panels or springs requires experience and skills. Preferably, you'll always leave garage door repairs to the local technicians. Why? Because your overhead door system operates with significant stress and tension applied to different parts (like the garage door springs). Mishandling repairs for garage doors can lead to very dangerous injuries. Whenever you've got a problem, remember that the experts are just a phone call away. When your Oviedo garage door needs repairs, you can get a same-day solution any day of the week.
You can also count on us for:
Garage Door Safety Inspections
Opener Sensor Repair & Replacement
Emergency Broken Spring Replacement
Track Replacement & Repair